Best Free Hosting Sites
While free is tempting, it's always limited when it comes to website hosting. With that in mind, we have hand-picked the best free website hosting sites that you can use to get started.
These hosting sites are 100% free for you to use.
With that said, here are the best free hosting companies in the world.
WordPress.com is a popular free hosting platform that offers a unique flavor of WordPress. Not to be confused with the WordPress.org, which is home of the well-known self-hosted website builder, WordPress.
WordPress.com offer a free website hosting plan which gives you a WordPress.com subdomain (i.e. yourwebsite.wordpress.com ), 3 GB storage, and access to free templates for your website.
This free plan displays ads on your website. You can upgrade to their paid plans to get rid of ads, use a custom domain name, and access additional features. At which point any of the "almost free hosting" services we mentioned above are the better option.
Wix is another fully-hosted website builder that offers free website hosting.
Like most free hosting services, it is supported by displaying ads and Wix.com branding on your free website. You can get rid of it by upgrading to their paid plans.
The free plan will give you a Wix.com subdomain, access to website templates, 500 MB of storage and 500 MB of bandwidth.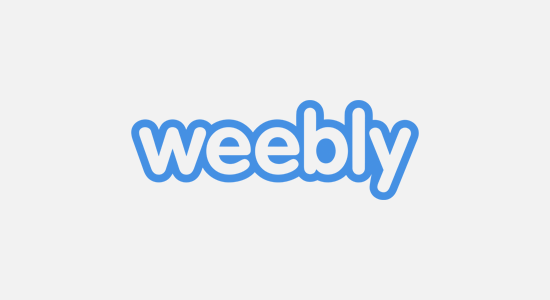 Weebly is another popular free website builder that you can use. It comes with an intuitive drag and drop builder and ready-made templates to create a website.
Their free plan includes a Weebly subdomain, 500 MB of storage, and displays Weebly ads. You can upgrade to their paid plans to get rid of ads, get more storage, and unlock features.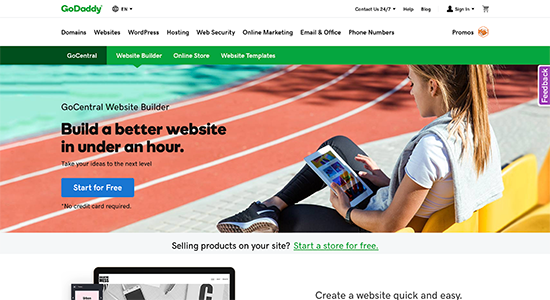 GoDaddy is the world's largest domain name registrar and a popular hosting company.
They offer GoDaddy website builder which is a drag and drop website builder with ready-made templates. It is available as a 30-day free trial after which you can upgrade to one of their paid plans starting from $5.99 per month.
Squarespace is a popular website builder platform that requires no technical skills. It offers beautiful professional templates and an intuitive drag and drop interface.
They offer a restricted 14-day free website hosting trial. This gives you access to their website builder so you can try its features. Your website will not be public unless you subscribe to a paid plan.
Paid plans start at $12 per month. Each plan comes with a free custom domain, unlimited bandwidth, storage, and ready-made website templates.
Google offers a wide variety of free website hosting solutions for small businesses and students. It comes with all the powerful features that you can expect from a top-class company like Google.
Since their plans are based on pay-per-use, it's an easy place for students to get started. Google offers $300 free credit for new customers which is sufficient to last you for a whole year, if you're just looking for a free website hosting for test sites.
You can use Google Cloud to host any type of website, and they even offer WordPress on Google Compute Engine.
Amazon Web Services also known as AWS powers some of the most popular websites in the world. While it's not easy to use for small businesses, it's a great platform for students and developers who're just getting started.
Amazon offers 12 months free and always free products on their AWS Free Tier which is by far one of the best free website hosting for testing sites.
Students can use Amazon's powerful platform to learn and master their development skills.
Drop your comment below.