Audio editing software is a software which allows editing and generating of audio data. Audio editing software can be implemented completely or partly as a library, as a computer application, as a web application, or as a loadable kernel module. Wave Editors are digital audio editors and there are many sources of software available to perform this function. Most can edit music, apply effects and filters, adjust stereo channels, etc.
Free audio editors are surprisingly powerful, and whether you're making a podcast, recording a song or trimming a sound, there's a tool for you.
The best audio editor overall is: adobe audition
Adobe Audition is a comprehensive toolkit for audio, allowing for multitrack, waveform, and spectral display for the mixing, editing, and restoring of audio. It's not free like the options below, but the result is the ability to polish the finishing for standalone audio as well as video. This powerful audio app is available either as a standalone or as part of the Adobe Creative Cloud.
The best free audio editors are as follows.
1. Audacity
One of the original free audio editors, and still the best
Operating system: Windows, macOS, Linux Huge library of pluginsSupports dozens of file formatsStream directly to podcast listenersCould confuse beginnersInterface looks outdated
In mid-2020, Audacity will celebrate its 20th birthday, cementing its reputation as one of the longest-lived free audio editors, and one of the best. For tech-savvy users or those willing to spend a few minutes learning how to navigate Audacity's slightly intimidating interface, this is the best free audio editor.
Audacity is an open-source product that works on Mac, Linux, and Windows devices. Over the years, it has developed an enormous developer following, meaning it's constantly being updated with new features and plugins to keep it competitive with other audio editors.
One of the best third-party Audacity plug-ins is , which allows you to add autotune effects to your sounds. With this audio editor, you can edit pre-recorded files, capture new sounds, add effects, and stream podcasts.
While beginners may be intimidated by the complicated visual look of the Audacity interface, it's surprisingly user-friendly with lots of screen real estate dedicated to showing you the waveforms of your tracks and large buttons for important actions like starting and pausing recordings.
2. Ocenaudio
Another powerful audio editor, but easier to master than Audacity
Operating system: Windows, macOS, Linux Clean interface with colorful buttonsCan be used to edit online audio filesHear changes in real-timeIrregular updates
If you find the Audacity interface a little overwhelming but don't want to compromise on any features, Ocenaudio is an excellent free audio editor to consider installing. This open-source platform plays well with Windows, Apple, and Linux devices.
Compared to other free audio editors, Ocenaudio stands out for its ability to let you preview effects in real-time. Most tools force you to edit "destructively", which means modifying the original audio file that you're working with. However, with Ocenaudio, you can adjust your playback parameters directly. As a result, when you change an effect like reverb in Ocenaudio, you'll hear the difference immediately.
Ocenaudio can work with files hosted on cloud servers as well as those stored on your local PC. Some users find the interface a little sparse, but most appreciate its clean and colorful design. If you plan to edit frequently, the best thing to do is memorize some of Ocenaudio's in-built keyboard shortcuts which will make your work significantly more efficient.
3. Ashampoo Music Studio 2019
Fully featured media player and audio editor combo
Operating system: Windows Great for beginnersExtra file management toolsRips and burns CDsOnly for WindowsNo multi-track support
Ashampoo Music Studio 2019 is a Windows-only audio editor and a great option for users who need to modify a sound file for the first time.
This tool's audio file editing interface is incredibly easy to use with a large waveform preview window taking up most of your screen, and buttons for key functions like cutting and pasting sections of your audio displayed below it. With Ashampoo, you don't get multi-track support so this audio editor is best suited to rearranging simple audio clips.
As the name suggests, Ashampoo Music Studio is more than a basic audio editor. You can actually use this freeware to design CD labels, edit file metadata tags, convert between different audio formats, and rip or burn discs.
4. Audiotool
A free online audio editor with great beat mixing facilities
Operating system: Windows, macOS, Linux (in browser Syncs tracks between devicesExports files in MP3 formatDozens of virtual instruments Only works in Chrome
Audiotool is a free online platform that allows you to create and publish music tracks. Unlike other free audio editing software packages listed here, Audiotool is an in-browser platform so there's no need to install a local client to use it, although a Chrome plugin is available.
This audio editor shares more DNA with Apple's Garage Band program than most audio editors. With it, you can record 30-second segments of sound to use as samples that can then be mixed with digital instruments already built into the Audiotool system.
You can modify your tracks with Audiotool by adding filters from a selection of 14 different effects. You can also create a MIDI controller within the program or use a splitter tool to attenuate and modify your audio signal.
5. Acoustica 6
An advanced free audio editor for complicated work
Operating system: Windows
Well designed interfaceSupports CD rippingLets you layer effectsNo multi-track mixing
Another excellent free audio editor with comparable features to Audacity is Acoustica, which is produced by Acon Digital. Acoustica is actually a premium subscription product, and no free version of the latest release, Acoustica 7, is available. However, you can install older versions of the software such as Acoustica 6 for free.
One of the big advantages of Acoustica 6 over open-source alternatives is its professional look-and-feel. The interface wouldn't look out of place in a top-end recording studio and, thanks to sensible design choices, it only takes a few minutes to get to grips with.
If you like Acoustica's setup, you can expand its feature set by installing VST or DirectX plugins. With these, you'll gain access to a wide range of new sound effects that can help you fine-tune your tracks to produce the result you're looking for.
A unique element of Acoustica is the so-called "Effect Chain" area. Here, you can layer up different audio filters and then apply the combination to multiple tracks. This is a great way to create a unique mix or ensure your sound stays consistent throughout an album.
Hya-Wave (Chrome)
This is a member of the new wave of online audio editors that run in your internet browser. And it's my favourite of that bunch.
Released in January 2015, I only discovered this a few months ago. The interface is clean and user friendly and the learning curve is pretty much non-existent. Three cheers for simplicity!
It doesn't support multi-tracking but you can copy, paste, cut, clear and crop your audio. You can load and save in the cloud, apply live effects and share to social media or via URL (take a listen to a song I applied some compression and a high-pass filter to here: )
Browser based DAWs could be the future of audio editing. There are several out there for music composition already and now more audio editors are appearing too.
This is ideal if you are recording or editing on the fly and don't want to install large programme on to your laptop.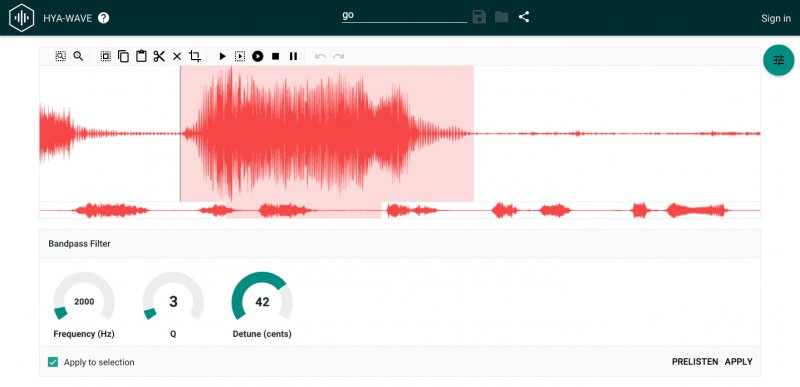 WavePad (Windows, Mac, iPad, Android)
A slightly older DAW, but still highly useful. The interface may not be as sleek as some of the editors listed here, but it makes up for this in features.
It's easy to install and easy to use. There are lots of bundled effects including noise removal, compression and reverb. There are also some great analysis tools for more advanced users.
Pitch and speed changes are possible. So is audio scrubbing, which can be very handy. It doesn't support multi-tracking so you can only edit stereo or mono audio files.
My absolute favourite feature of this software is the batch processing (which I discussed in the introduction). You can apply compression, reverb, EQ or any effect to a number of audio files at once. This can save you HOURS in the right situation.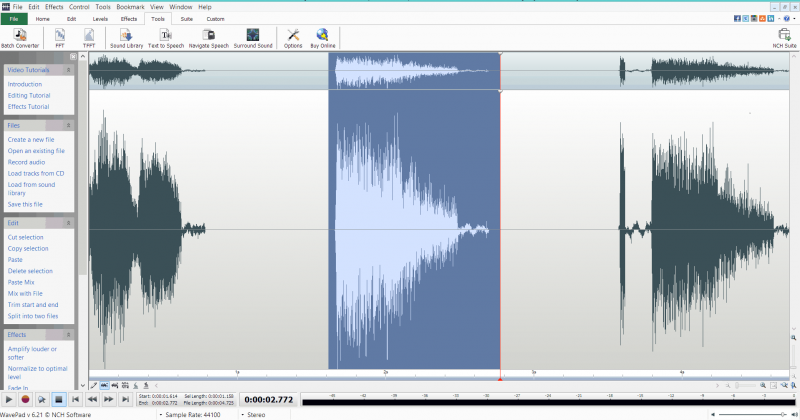 TwistedWave (web app, Mac, iPhone)
Another awesome online web application for editing sound. Again, it can't multi-track, but it makes up for this with usability and features.
It's easy to normnalize your audio and the effects are easy to apply.
Quick tip: like a lot of audio editing software, if you delete a section of audio the rest will 'shuffle' back so that there aren't any gaps. If you want to remove noise without shuffling the audio, you need to 'mute' or 'silence' the section with noise.
In TwistedWave you can do this easily by highlighting the section of audio that you want to mute and hitting 's' on your keyboard!
Link: TwistedWave