What is Computer Security?
Computer security which is, also known as cybersecurity or IT security, is the protection of information systems from theft or damage to the hardware, the software, and to the information on them, as well as from disruption or misdirection of the services they provide. It includes controlling physical access to the hardware, as well as protecting against harm that may come via network access, data and code injection, and due to malpractice by operators, whether intentional, accidental, or due to them being tricked into deviating from secure procedures.
Types of IT Security Software
How does IT security software work? In essence, it detects and, in some cases, mitigates security attacks in your system. Since there are various types of security attacks, there are also various types of security products to target each one of them. Here are some of the most popular ones:
Firewall. The over-arching term "firewall" refers to the specialized defense systems for a single computing device or computer network. It filters data that enters or leaves a computer or network by blocking or restricting network ports from viruses and hackers. It also serves as a barrier between a trusted and untrusted network by only allowing traffic that's defined by the firewall policy to enter the network. Serving as your computer's first line of defense, this utility also comes in even more various types such as proxy firewall, stateful inspection firewall, unified threat management (UTM) firewall, next-generation firewall (NGFW), and threat-focused NGFW.
Antivirus. This software utility is designed to prevent, search, detect and remove malicious software or malware such as viruses, worms, scareware, and Trojans. With the constant onslaught of new viruses, these programs are often updated to enable the system to check new threats. While vendors vary in their offerings, some of its basic functions include scanning files and directories for suspicious patterns, scheduling automatic scans, scanning of a specific file of your computer, CD, or flash drive at a given time, removing any detected malicious codes or infected files, and providing you an overview of your computer's health.
Spyware detection. Spyware, also called malware and adware, are software programs installed on your computer without your consent. Anti-Spyware software is used to detect their presence on your computer or network and prevent or remove their installations. Removing them is crucial because of they "spy" and record your personal information from your computer, as well as computing behaviors such as your documents, web browsing, and keystrokes. This can tailor advertising on your computer, change its configuration, and even send your personal details to another remote computer.
Password protection. One of the highly used methods to prevent unauthorized access to a computer, file, folder, and system is protecting it with a password. The challenge of having a password lies in human memory. In most cases, many people use an easy-to-remember password such as birthdays and family names (and in many cases, the word "password" itself) which also makes it easy to guess for cybercriminals. Furthermore, many reuse the same password across various platforms that exposes risks to all your accounts even when only one is compromised. On the other hand, a unique, hard-to-guess password in each account is hard to remember. This is where password protection security comes handy in generating strong passwords and storing them securely.
Features of IT Security Software
What does IT security software do? Here are some of the key features of the security software:
Automatic updates. This ensures you don't miss any update and your system is the most up-to-date version to respond to the constantly emerging new cyber threats.
Real-time scanning. Dynamic scanning features make it easier to detect and infiltrate malicious entities promptly. Without this feature, you'll risk not being able to prevent damage to your system before it happens.
Auto-clean. A feature that rids itself of viruses even without the user manually removing it from its quarantine zone upon detection. Unless you want the option to review the malware, there is no reason to keep the malicious software on your computer which makes this feature essential.
Multiple app protection. This feature ensures all your apps and services are protected, whether they're in email, instant messenger, and internet browsers, among others.
Application level security. This enables you to control access to the application on a per-user role or per-user basis to guarantee only the right individuals can enter the appropriate applications.
Role-based menu. This displays menu options showing different users according to their roles for easier assigning of access and control.
Row-level (multi-tenant) security. This gives you control over data access at a row-level for a single application. This means you can allow multiple users to access the same application but you can control the data they are authorized to view.
Single sign-on. A session or user authentication process that allows users to access multiple related applications as long as they are authorized in a single session by only logging in their name and password in a single place.
User privilege parameters. These are customizable features and security as per individual user or role that can be accessed in their profile throughout every application.
User-specific data sources. This enables you to build a single application that, depending on the user, accesses various data sources. It is the same with row-level security but on a database tier.
Application activity auditing. Vital for IT departments to quickly view when a user logged in and off and which application they accessed. Developers can log end-user activity using their sign-on/signoff activities.
Benefits of IT Security Software
Why use IT security software? The real advantages of IT security software solutions directly correspond to the consequences of not having one. At some point, even the most tech-savvy users may download some form of malware or become victims of online scamming and identity theft. The internet is not a secure place and with more and more operations managed by SaaS solutions, prioritizing your entire organization's protection is imperative.
Prevention of viruses, spyware and identity theft. Hackers are finding trickier ways to create viruses that may pose as an anti-virus software, email from a friend, or imposter bank websites. Once they infect your computer, they can drastically slow down your processing speed, delete critical data, and damage your computer or network systems. Identity theft and spyware can also be prevented by using the software to safeguard the confidential personal information such as passwords, financial data, credit card numbers, and social security numbers of your system's users. In fact, 80% of cyber attacks are caused by weak or stolen passwords, hence, it must be secured carefully.
Protection of valuable information. Information is one of the most valuable assets of any organization. Hence, its protection is a vital part of your IT infrastructure. Loss of critical information caused by data corruption can be detrimental to your business. Furthermore, MasterCard International Inc. and Visa USA require data encryption to allow business to operate in order to protect customers when using their credit cards. Encryption and limiting access to sensitive information are only some of the aspects that are handled by information-technology security.
Ensure compliance. Many IT departments need to comply with legal, insurance, and industry restrictions to perform the management and transmission of data. Some of the most notable regulations to take note of includes FIPS, PCI/DSS, Gramm-Leach Bliley, HIPAA, and FISMA. Security software provides the encryption they require for compliance whenever your file is accessed, shared, circulated across various devices, and sent from or received in your system.
Security for clients. Give your clients peace of mind by making them aware your system is protected. At a time where cybersecurity is crucial, this benefit potentially increases your sales and marketability. The security and safety of their sensitive personal information are some of the customer's primary concerns which make them hesitant to share their information and make transactions online. With that, having security solutions assures your customers that their information is safe with you. The best-industry practices give you rewards with an increased number of customers, higher sales, and sound market reputation.
Reduced costs of development. Implementing a security solution early on prevents you high costs along the way. While it's never too late to install a security software in your system, the sooner you have it, the better. If you choose to do it later, you'll have more codes to modify. Inadvertent data loss and retrieval may also cause you a huge sum of money and amount of time when not prevented. In 2016 alone, the cost of cybercrime in the global economy reached upwards of $450 billion. By 2019, it was expected to reach up to $2 trillion.
Buying Factors of IT Security Software
With the wide array of products available, choosing the right security solution for your organization can be challenging. Not one product is completely the same with another. Aside from understanding the definition of what is IT security software, these factors should be on top of your list before deciding to purchase an IT security system for your business:
Layered approach to security. Protection alone is not enough to safeguard your system. Choosing software that has a layered approach closes any security gaps to identify potential threats and prevent them from causing further damage. The isolation and identification of threats must be covered in all layers. This includes firewalls, malware scanners, local storage encryption tools, and intrusion detection systems.
Compatibility with your system needs. Understanding your own IT setup, network specification, software installations, and the different types of equipment in your system is crucial to shortlist potential security packages to fit in your specific business environment. An example is media encryption service which is essential for companies that use removable storage to block infected files from entering your network.
Capability to cope with emerging threats. Cybercrime tech and tactics constantly evolve. If your system cannot respond to new threats, it won't be of use to you and your system. Adapting and imposing protection against emerging threats should be a significant factor in choosing an IT security package. Check their software updates and patches if they are as innovative as the efforts of cybercrime.
What are the actual concerns of computer security?
Computer Security is concerned with four main areas:
1. Confidentiality:- Only authorized users can access the data resources and information.
2. Integrity:- Only authorized users should be able to modify the data when needed.
3. Availability:- Data should be available to users when needed.
4. Authentication:- are you really communicating with whom you think you are communicating with
Why do you think computer security is important?
Computer security is important because it helps in prevention of data theft such as bank account numbers, credit card information, passwords, work related documents or sheets, etc. is essential in today's communications since many of our day to day actions depend on the security of the data paths.
Data present in a computer can also be misused by unauthorized intrusions. An intruder can modify and change the program source codes and can also use your pictures or email accounts to create derogatory content such as pornographic images, fake misleading and offensive social accounts.
Malicious intents can also be a factor in computer security. Intruders often use your computers for attacking other computers or websites or networks for creating havoc. Vengeful hackers might crash someone's computer system to create data loss. DDOS attacks can be made to prevent access to websites by crashing the server.
Above factors imply that your data should remain safe and confidential. Therefore, it is necessary to protect your computer and hence the need for Computer Security arises.
PCs have many advantages, but they also need adequate protection against viruses and other threats. The best antivirus for PC can't be identified by simply looking at its price tag or at a marketing blurb. If you want to know what criteria to consider and how to compare the top products on the market, then have a look over the reviews. They will help you choose between the most effective solutions out there, so you can decide for yourself which is the best antivirus for your PC.
Avast Free Antivirus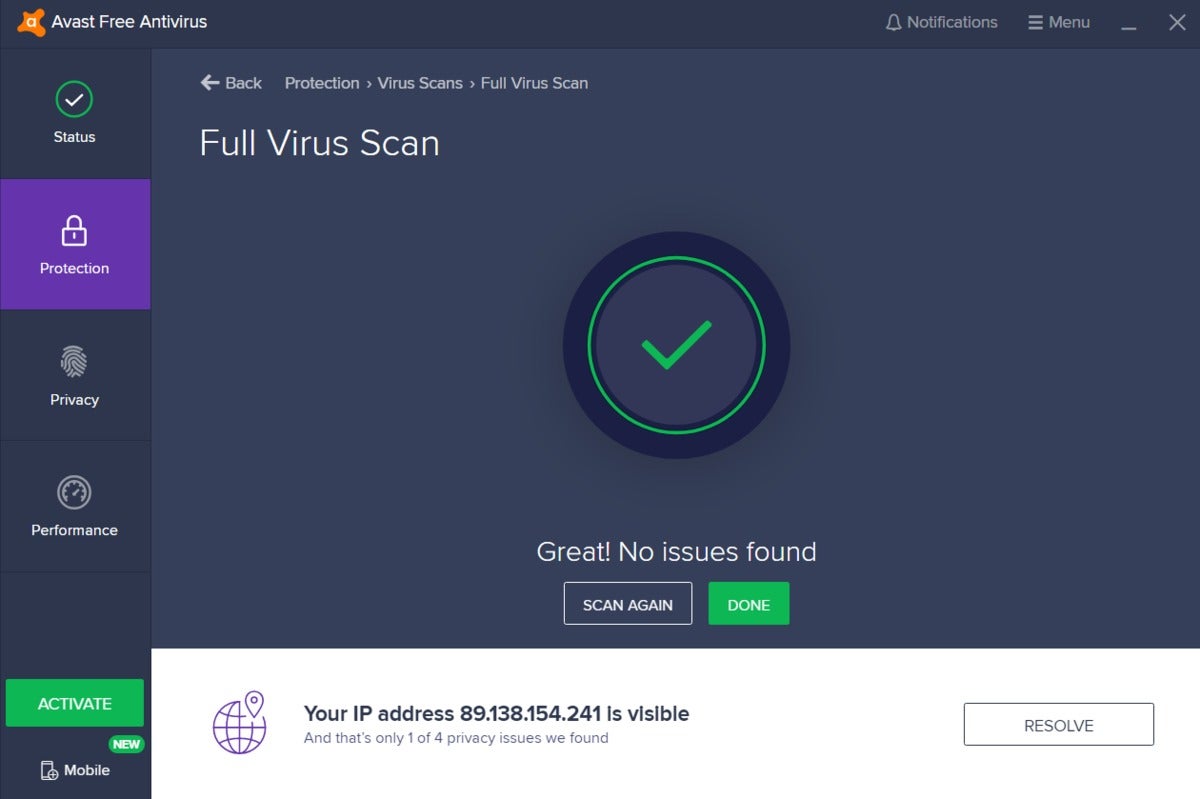 Avast premier is a very highly rated antivirus program. With the free version of this suite you can run all the various virus scans. Most of the key Avast protections are also available, such as scanning new files added to your system, watching for malicious behavior from installed programs, a web browsing shield, and an email shield.
Avast Free even allows you to inspect your network and see the devices currently connected to your home router. Plus Avast's password manager is available for free.
What you don't get for free is the phishing protection, the sandbox to separate suspicious files from your system, the Avast firewall, and the ransomware protection.
Avast is surprisingly useful in its free version and is one of the most flexible options around.
During installation Avast gets a little annoying. It tries to sneak an installation of Google Chrome past you, for example. Avast also hasn't been a friend to privacy in recent years by sharing user data with its subsidiary Jumpshot.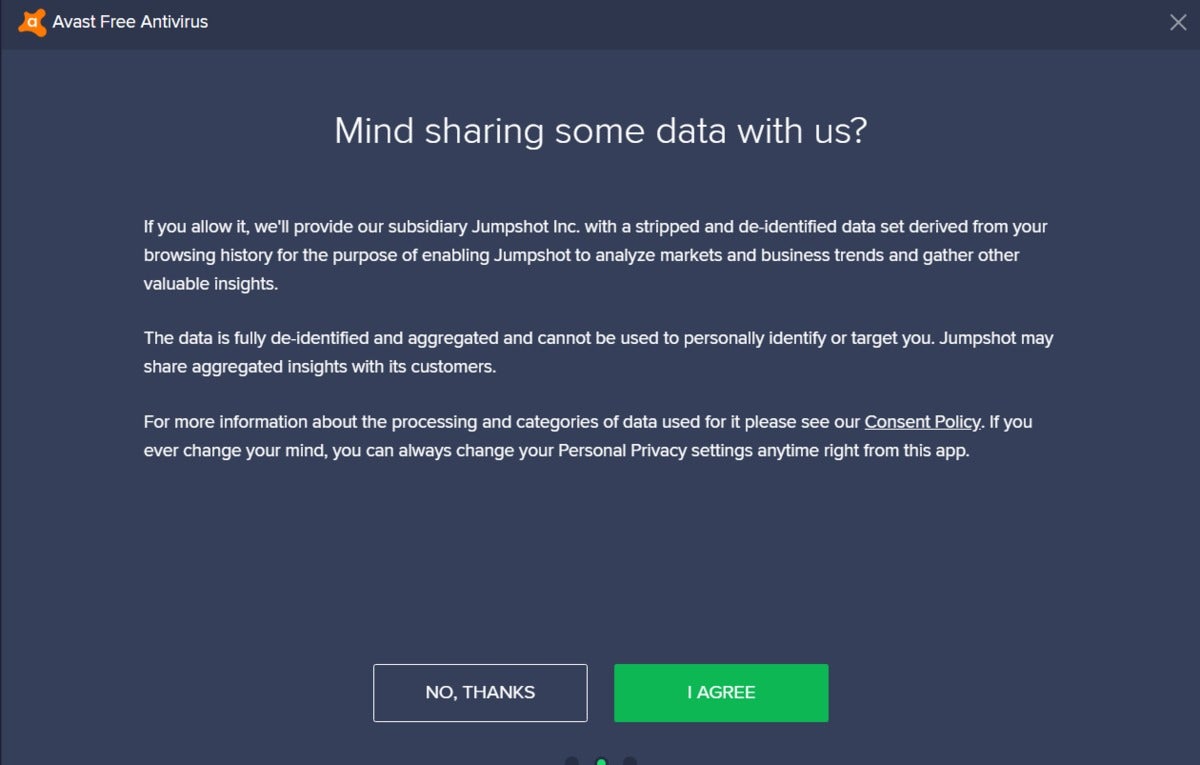 In the meantime, Avast makes it very clear during installation that you don't have to share data with the company, as seen above.
Kapsersky Security Cloud – Free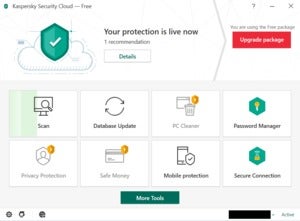 Kasperksy is another highly rated antivirus with a good amount to offer for a free service. This free antivirus suite doesn't try to install any extra software on the sly like Avast does. It will, however, ask you to create a Kaspersky account during installation. Just be sure to uncheck the box about receiving marketing materials—unless you want a bunch of email from Kaspersky, that is.
Kaspersky Free supports the various scanning options you'd expect from paid suites, including scans of external devices, and the ability to schedule scans. Also part of the free package are Kaspersky's password manager and Secure Connection VPN with a 300MB data usage limit per day.
What you don't get are the privacy-protection features for preventing unauthorized use of your webcam; Safe Money, the sandboxed browser for financial transactions; PC Cleaner for clearing out old files; and any of the extra tools such as the software updater or network monitor. To see what you're missing check out our review of Kaspersky total security
Overall, however, Kaspersky offers solid protection for free, plus a few extras.
Avira Free Antivirus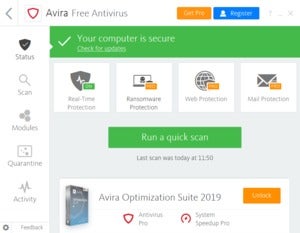 Avira antvirus pro is a strange suite. As we've noted in our reviews, there's little point in paying for the Pro version when you get so much with the free option. Avira free includes the antivirus, the software updater, the home network updater, and a free VPN with an allowance of 500MB per month. All of these are separate applications connected via the Avira desktop app.
There are essentially no limits on all the extras. The difference in protection is with the antivirus capabilities. The free version will scan your PC, and offers real-time protection for your desktop. But it lacks protection from ransomware, web threats, email threats, and advanced cloud protection. It also lacks the improved PC cleanup feature for clearing out old files in the Pro version.
Installation with Avira is easy, with no attempts to sneak in other software, and no requirement for creating an account. Uninstalling, however, is a pain since there are so many different components automatically installed, and each one must be removed one by one.
Bitdefender Antivirus Free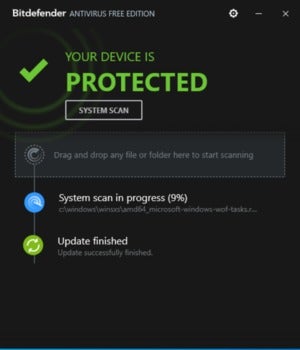 Most antivirus suites use the same desktop interface as their pro versions. The difference being all the premium features have some kind of lock icon over them to indicate that you can't use them. The companies hope you'll see all the great stuff their product has to offer and sign up to unlock the paid features.
Bitdefender doesn't do that. Instead, it offers a stripped down antivirus program with minimal options instead of the full interface of Bitdefender total security.
Bitdefender's free antivirus scans your PC only. You can click the System Scan button to initiate a scan, or you can drag-and-drop files in need of scanning. If you like, you can exclude certain files or folders to speed up scan times.
That's about it for extra features. There are no password managers, PC tools, or VPN. It's scanning and that's it. Well, almost it. Bitdefender's free edition includes anti-phishing, and anti-fraud protection.
Windows Security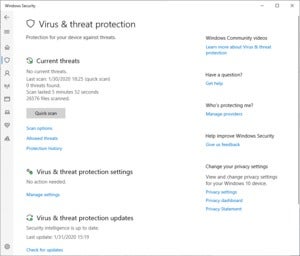 Finally, we come to Microsoft's built-in security solution. There was a time when we wouldn't even consider Windows Security (also known as Windows Defender) for an article like this. Times have changed, however, and Windows Security is often getting high marks from third-party testing houses.
The truth is, Windows Security is very good. It has ransomware protection, which many free suites don't. There are third-party options that have better detection capabilities based on independent tests, but the improved performance is often marginal. If you want reasonable security without the bother of installing a third-party suite, then you're all set. Windows Security is active by default in Windows 10, and it works in the background ensuring you're protected from threats. For a detailed look at Windows Security, checkout our review.
Whether you want to stick with Microsoft's homegrown option, take advantage of a free password manager or VPN, one of these five free antivirus suites will meet your needs. Note: When you purchase something after clicking links in our articles, we may earn a small commission. Read our affilliate link policy for more details.
Super antispyware is another powerful free antivirus that removes diffcult and stubborn virusess from your computer.
Malwarebytes is also another free antivirus that eliminates malwares from your computer.
Drop your comment