Laptop Is On But No Display
If you"ve been experiencing problems with your laptop. The power button light turns on but nothing appears on the screen. How to solve the laptop turns on but no display issue without affecting data inside." is clearly stated in this write up
It's common to see laptop black screen of death after login with a cursor, no display, no options, just nothing. For years of experience in the IT field, the laptop with "LED light on, hard drive spinning, but no display" issue frequently happens to users, especially when Microsoft pushes a Windows operating system update. And the corresponding troubleshooting can be found anywhere on the internet, most will be related to a Windows reset or component reset, which wipes hard drive data. Press and hold the power button on your device for 10 seconds to turn it off, then unplug your adapter. After 30 seconds, plug your adapter back in and restart your device. If you still see a black screen, you can read on.
Solution1. Recover Data When Screen Remains Blank or Black
So, if you care about your data, try to access your hard drive at the very first. Among the multiple approaches, we recommend you the easiest one. You can easily copy the data to another drive or using data recovery software. Remember to take out the hard drive and recover data from it. Connect the hard drive to another computer and then using the data recovery software that doesn't need any technical know-how and minimizes data risks Download for windows and mac
Solution 2. Hard Reset the Laptop to Attempt to Resolve a Blank Screen
Your laptop manufacturers should allow you to hard reset or factory reset your machine when it has trouble starting up or malfunctioning in other ways. If you have no idea about how to do the hard reset, try to contact the manufacturer or seek help on the official support forum. This manner removes data and apps, still, it deserves an initial trial since it resolves the display blank or black issue mostly. Here, we take HP laptop as an example:
Step 1. Turn off the laptop. Remove the laptop from any port replicator or docking station.
Step 2. Disconnect all external connected peripheral devices such as USB storage devices, external displays, and printers. Unplug the AC adapter from the laptop.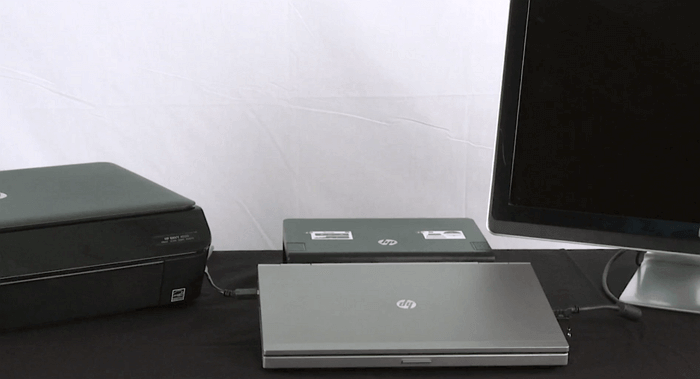 Step 3. Remove the battery from the battery compartment.
With the battery and power cord unplugged, press and hold the "Power button" for about 15 seconds to drain any residual electrical charge from the capacitors.
Step 4. Insert the battery and plug the AC adapter back into the laptop, but do not connect any of the peripheral devices.
Step 5. Press the "Power button" to turn on the laptop. The laptop starts normally or a startup menu opens.
Step 6. If a startup menu opens, use the arrow keys to select Start Windows Normally, and then press "Enter".
After Windows opens, reconnect each peripheral device that was disconnected, one device at a time, until all devices are reconnected.
Solution 3. Connect An External Monitor to Test The Display
To exclude the factor that your laptop monitor has been damaged or not working properly, try to find a normally working monitor and connect your laptop to it. You can connect most monitors and other display devices like projectors using the VGA, DVI, HDMI or DisplayPort cables.
Step 1. Connect an external monitor to the laptop.
Know the video connectors on your computer and display devices to avoid problems and get the best possible picture quality.
An HDMI connection can also carry audio. HDMI audio is lost when using a DVI to HDMI adapter or cable solution. You cannot connect DVI-D to VGA.
Step 2. If the computer screen does not display on the external monitor, press "F4" until the screen image displays.
Step 3. If an image displays on the external monitor, there might be a graphics driver conflict with the laptop LCD display. Download and install the latest graphics and chipset drivers for your specific computer.
Step 4. If you can hear sounds of operation but no image is visible on either display, you can change a monitor or send the laptop for service.
Fix 4. Reseating The Memory Modules
If a memory module is loose, it usually causes a laptop not displaying an image. So, reseating the memory modules might resolve either a blank or black screen issue on a laptop. By removing the AC adapter from the laptop, removing and reseating the memory module, and then reconnecting the AC adapter to the laptop, you can finally make it.
Step 1. Turn off the laptop, and then disconnect the power cord. Before beginning any procedure, touch a grounded metal object to discharge static electricity.
Step 2. Remove the cover to access the memory.
Step 3. Remove memory modules on the laptop.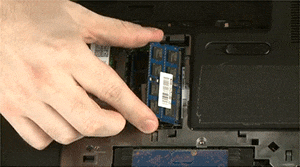 Step 4. Reinsert all memory modules.
Step 5. Perform any tests to verify that the laptop can start up and run in the Windows operating system.
Solution 5. Reset Your PC to Fix Black Screen on Laptop
If your turns on but no display, you can refresh or reset your PC or laptop to reinstall Windows without affecting your personal files, apps, or any of your settings.
Step 1. Press the Windows logo key and L on your keyboard. This will take you to the Windows 10 sign-in screen. Don't log in.
Step 2. Reset your PC by holding the "Shift" key while you click the "Power" button > "Restart" in the lower-right corner of the screen. Your PC will restart in Windows Recovery Environment (WinRE) environment.
Step 3. From the options screen, choose "Troubleshoot > Reset this PC". Click "Next".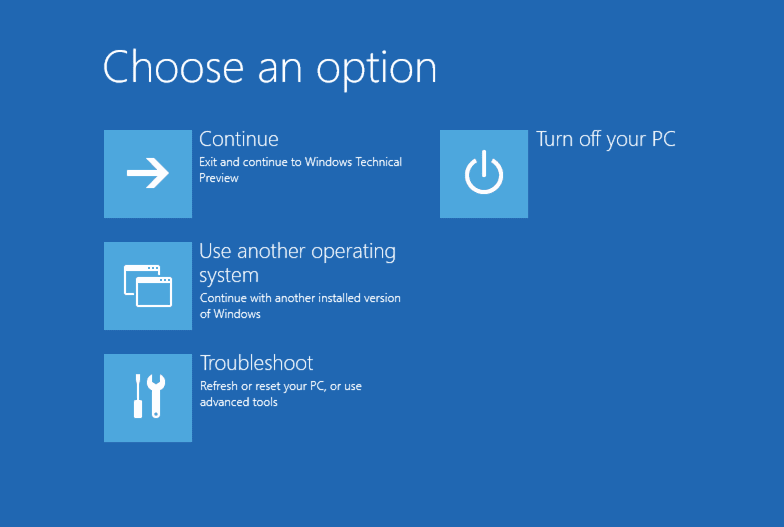 Then, select the quick option to remove your personal files. Wait for Windows to open. Follow any on-screen instructions.
Solution 6.Make Sure Your Computer Boots
If your computer isn't booting, you'll get a black screen, so make sure your computer actually turns all the way on when you press the power button. This applies to both desktops and laptops.
Press the power button and then listen to your computer and watch its LEDs. Your computer fans should turn on, making noise. If you have a magnetic hard drive, you should hear it working to load Windows or Mac OSX. If you have wired networking (ethernet), you may have lights where the cord connects to your computer—see if they start flashing. If you have wireless, you should have a light which indicates that the wireless adapter is active.
Conclusively
If your PC turns on but no display, don't worry try the methods we have listed above to effectively fix your issue. Drop your comment and share with your friends.