WHAT IS AN IP ADDRESS?
An Internet Protocol address is a numerical label assigned to each device connected to a computer network that uses the Internet Protocol for communication. An IP address serves two main functions: host or network interface identification and location addressing
An IP address is also a unique address that identifies a device on the internet or a local network. IP stands for "Internet Protocol," which is the set of rules governing the format of data sent via the internet or local network.
In essence, IP addresses are the identifier that allows information to be sent between devices on a network: they contain location information and make devices accessible for communication. The internet needs a way to differentiate between different computers, routers, and websites. IP addresses provide a way of doing so and form an essential part of how the internet works.
An IP address is a string of numbers separated by periods. IP addresses are expressed as a set of four numbers — an example address might be 192.158.1.38. Each number in the set can range from 0 to 255. So, the full IP addressing range goes from 0.0.0.0 to 255.255.255.255.
IP addresses are not random. They are mathematically produced and allocated by the Internet Assigned Numbers Authority (IANA), a division of the Internet Corporation for Assigned Names and Numbers (ICANN). ICANN is a non-profit organization that was established in the United States in 1998 to help maintain the security of the internet and allow it to be usable by all. Each time anyone registers a domain on the internet, they go through a domain name registrar, who pays a small fee to ICANN to register the domain.
How do IP addresses work
If you want to understand why a particular device is not connecting in the way you would expect or you want to troubleshoot why your network may not be working, it helps understand how IP addresses work.
Internet Protocol works the same way as any other language, by communicating using set guidelines to pass information. All devices find, send, and exchange information with other connected devices using this protocol. By speaking the same language, any computer in any location can talk to one another.
The use of IP addresses typically happens behind the scenes. The process works like this:
Your device indirectly connects to the internet by connecting at first to a network connected to the internet, which then grants your device access to the internet.
When you are at home, that network will probably be your Internet Service Provider (ISP). At work, it will be your company network.
Your IP address is assigned to your device by your ISP.
Your internet activity goes through the ISP, and they route it back to you, using your IP address. Since they are giving you access to the internet, it is their role to assign an IP address to your device.
However, your IP address can change. For example, turning your modem or router on or off can change it. Or you can contact your ISP, and they can change it for you.
When you are out and about – for example, traveling – and you take your device with you, your home IP address does not come with you. This is because you will be using another network (Wi-Fi at a hotel, airport, or coffee shop, etc.) to access the internet and will be using a different (and temporary) IP address, assigned to you by the ISP of the hotel, airport or coffee shop.
As the process implies, there are different types of IP addresses, which we explore below.
Types of IP addresses
There are different categories of IP addresses, and within each category, different types.
Consumer IP addresses
Every individual or business with an internet service plan will have two types of IP addresses: their private IP addresses and their public IP address. The terms public and private relate to the network location — that is, a private IP address is used inside a network, while a public one is used outside a network.
Private IP addresses
Every device that connects to your internet network has a private IP address. This includes computers, smartphones, and tablets but also any Bluetooth-enabled devices like speakers, printers, or smart TVs. With the growing internet of things, the number of private IP addresses you have at home is probably growing. Your router needs a way to identify these items separately, and many items need a way to recognize each other. Therefore, your router generates private IP addresses that are unique identifiers for each device that differentiate them on the network.
Public IP addresses
A public IP address is the primary address associated with your whole network. While each connected device has its own IP address, they are also included within the main IP address for your network. As described above, your public IP address is provided to your router by your ISP. Typically, ISPs have a large pool of IP addresses that they distribute to their customers. Your public IP address is the address that all the devices outside your internet network will use to recognize your network.
Public IP addresses
Public IP addresses come in two forms – dynamic and static.
Dynamic IP addresses
Dynamic IP addresses change automatically and regularly. ISPs buy a large pool of IP addresses and assign them automatically to their customers. Periodically, they re-assign them and put the older IP addresses back into the pool to be used for other customers. The rationale for this approach is to generate cost savings for the ISP. Automating the regular movement of IP addresses means they don't have to carry out specific actions to re-establish a customer's IP address if they move home, for example. There are security benefits, too, because a changing IP address makes it harder for criminals to hack into your network interface.
Static IP addresses
In contrast to dynamic IP addresses, static addresses remain consistent. Once the network assigns an IP address, it remains the same. Most individuals and businesses do not need a static IP address, but for businesses that plan to host their own server, it is crucial to have one. This is because a static IP address ensures that websites and email addresses tied to it will have a consistent IP address — vital if you want other devices to be able to find them consistently on the web.
This leads to the next point – which is the two types of website IP addresses.
There are two types of website IP addresses
For website owners who don't host their own server, and instead rely on a web hosting package – which is the case for most websites – there are two types of website IP addresses. These are shared and dedicated.
Shared IP addresses
Websites that rely on shared hosting plans from web hosting providers will typically be one of many websites hosted on the same server. This tends to be the case for individual websites or SME websites, where traffic volumes are manageable, and the sites themselves are limited in terms of the number of pages, etc. Websites hosted in this way will have shared IP addresses.
Dedicated IP addresses
Some web hosting plans have the option to purchase a dedicated IP address (or addresses). This can make obtaining an SSL certificate easier and allows you to run your own File Transfer Protocol (FTP) server. This makes it easier to share and transfer files with multiple people within an organization and allow anonymous FTP sharing options. A dedicated IP address also allows you to access your website using the IP address alone rather than the domain name — useful if you want to build and test it before registering your domain.
IP address security threats
Cybercriminals can use various techniques to obtain your IP address. Two of the most common are social engineering and online stalking.
Attackers can use social engineering to deceive you into revealing your IP address. For example, they can find you through Skype or a similar instant messaging application, which uses IP addresses to communicate. If you chat with strangers using these apps, it is important to note that they can see your IP address. Attackers can use a Skype resolver tool, where they can find your IP address from your username.
Online stalking
Criminals can track down your IP address by merely stalking your online activity. Any number of online activities can reveal your IP address, from playing video games to commenting on websites and forums.
Once they have your IP address, attackers can go to an IP address tracking website, such as whatismyipaddress.com, type it in, and then get an idea of your location. They can then cross-reference other open-source data if they want to validate whether the IP address is associated with you specifically. They can then use LinkedIn, Facebook, or other social networks that show where you live, and then see if that matches the area given.
If a Facebook stalker uses a phishing attack against people with your name to install spying malware, the IP address associated with your system would likely confirm your identity to the stalker.
If cybercriminals know your IP address, they can launch attacks against you or even impersonate you. It is important to be aware of the risks and how to mitigate them. Risks include:
Downloading illegal content using your IP address
Hackers are known to use hacked IP addresses to download illegal content and anything else they do not want to be traced back to them. For example, using the identity of your IP address, criminals could download pirated movies, music, and video – which would breach your ISP's terms of use – and much more seriously, content related to terrorism or child pornography. This could mean that you – through no fault of your own – could attract the attention of law enforcement.
How to protect and hide your IP address
Hiding your IP address is a way to protect your personal information and online identity. The two primary ways to hide your IP address are:
Using a proxy server
Using a virtual private network (VPN)
A proxy server is an intermediary server through which your traffic is routed:
The internet servers you visit see only the IP address of that proxy server and not your IP address.
When those servers send information back to you, it goes to the proxy server, which then routes it to you.
A drawback of proxy servers is that some of the services can spy on you — so you need to trust it. Depending on which one you use, they can also insert ads into your browser.
VPN offers a better solution:
When you connect your computer – or smartphone or tablet – to a VPN, the device acts as if it is on the same local network as the VPN.
All your network traffic is sent over a secure connection to the VPN.
Because your computer behaves as if it is on the network, you can securely access local network resources even when you are in another country.
You can also use the internet as if you were present at the VPN's location, which has benefits if you are using public Wi-Fi or want to access geo-blocked websites.
HOW TO ASSIGN IP ADDRESSES TO COMPUTERS IN A NETWORK
How To Assign A Static IP Address To Your Windows Computer
You may need to connect your Room Alert Monitor directly to your Windows computer for troubleshooting purposes if you are experiencing one of the following issues:
Your network is not DCHP-enabled, and you need to discover and then set a static IP on your Room Alert Monitor.
You are having difficulty discovering your Room Alert Monitor and other advanced methods have not worked.
You are having issues loading the Room Alert Monitor's Status or Settings pages that other troubleshooting methods have not resolved.
Before you connect your Room Alert directly to your computer, you'll need to give the computer a static IP address. To do so, please follow these steps:
1. Open the Network and Sharing Center on your computer. In Windows 10, you may open it by navigating to Start → Windows System→ Control Panel→ Network and Internet→ Network and Sharing Center. In earlier versions of Windows, the navigation will differ slightly.
2. Select Change adapter settings from the links to the left of the Network and Sharing Center screen.

3. Right-click on your regular Ethernet connection and select Properties.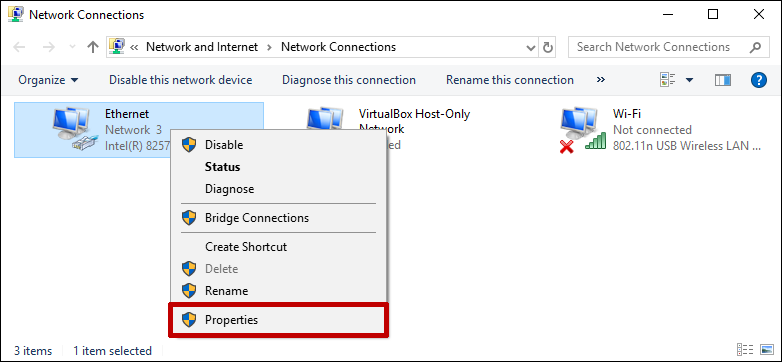 4. Highlight Internet Protocol Version 4 (TCP/IPv4) by clicking on it once and then select Properties.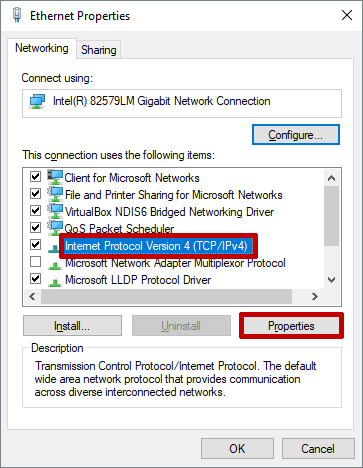 5. In the Internet Protocol Version 4 (TCP/IPv4) Properties dialog box, select Use the following IP address.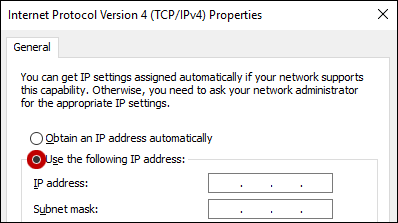 6. Enter an IP Address and Subnet mask for your computer. What you enter depends on how your Room Alert Monitor is configured. Please select one of the choices below for further instructions.If your Room Alert is on DHCP (the default) . . .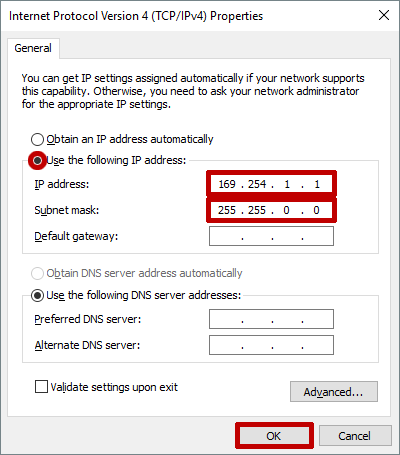 If your Room Alert has a static IP . . .
Drop your comment.