DEFINITION OF HARD DRIVE
A hard disk drive (HDD), hard disk, hard drive, or fixed disk is an electro-mechanical data storage device that stores and retrieves digital data using magnetic storage and one or more rigid rapidly rotating platters coated with magnetic material.
TYPES OF HARD DRIVE
Hard Drive Types
Currently, we can group hard drives into four types:
Parallel Advanced Technology Attachment (PATA)
Serial ATA (SATA)
Small Computer System Interface (SCSI)
Solid State Drives (SSD)
Parallel Advanced Technology Attachment
These were the first types of hard disk drives and they made use of the Parallel ATA interface standard to connect to computers. These types of drives are the ones we refer to as Integrated Drive Electronics (IDE) and Enhanced Integrated Drive Electronics (EIDE) drives.
These PATA drives were introduced by Western Digital back in 1986. They provided a common drive interface technology for connecting hard drives and other devices to computers. Data transfer rate can go up to 133MB/s and a maximum of 2 devices can be connected to a drive channel. Most of the motherboards have a provision of two channels, thus a total of 4 EIDE devices can be connected internally.
They make use of a 40 or 80 wire ribbon cable transferring multiple bits of data simultaneously in parallel. These drives store data by the use of magnetism. The internal structure is made of mechanical moving parts. They have been superseded by serial ATA.
An EIDE Hard Disk Drive
Serial ATA Storage Drives
These hard drives have replaced the PATA drives in desktop and laptop computers. The main physical difference between the two is the interface, although their method of connecting to a computer is the same. Here are some advantages of SATA Hard Disk Drives. Worth noting is that their capacities vary a lot and so does the prices. When buying a disk drive, you need to know its storage capacity and how much storage you want.
SATA drives can transfer data faster than PATA types by using serial signaling technology.
SATA cables are thinner and more flexible than PATA cables.
They have a 7-pin data connection, with cable limit of 1 meter.
Disks do not share bandwidth because there is only one disk drive allowed per SATA controller chip on the computer motherboard.
They consume less power. They only require 250 mV as opposed to 5V for PATA.
Interface of SATA Drive
Small Computer System Interface
These are quite similar to IDE hard drives but they make use of the Small Computer System Interface to connect to the computer. SCSI drives can be connected internally or externally. Devices that are connected in a SCSI have to be terminated at the end. Here are some of their advantages.
They are faster.
They are very reliable.
Good for 24/7 operations.
Have a better scalability and flexibility in arrays.
Well-adapted for storing and moving large amounts of data.
Solid State Drives
These are the latest in drive technology that we have in the computer industry. They are totally different from the other drives in that they do not consist of moving parts. They also do not store data using magnetism. Instead, they make use of flash memory technology. They make use of integrated circuits or semiconductor devices to store data permanently, at least until they are erased. Here are some of their advantages.
Faster data access.
Less susceptible to shock.
Lower access times and latency.
Durability.
Less power usage.
A Solid State Drive (SSD)
What Does a Hard Drive Do?
A hard drive is the hardware component that stores all of your digital content. Your documents, pictures, music, videos, programs, application preferences, and operating system represent digital content stored on a hard drive. Hard drives can be external or internal.
Everything stored on a hard drive is measured in terms of its file size. Documents (text) are generally very small whereas pictures are large, music is even larger, and videos are the largest. A hard drive determines the size of digital files in terms of megabytes (MB), gigabytes (GB), and terabytes (TB).1
HOW TO FIX HARD DISK NOT DETECTED IN COMPUTER
1. Reconnect Hard Drive to Your PC
When you get a faulty hard drive data cable or the hard disk is not properly plugged to your computer, your hard drive may not be able to show up on the PC even in the BIOS. Therefore, you can directly reconnect the hard drive to your computer's motherboard USB port, to see whether you can access the saved data.
Step 1. Shut down your PC at first.
Step 2. Open your computer cases and remove all the screws with a screw driver.
Step 3. Unplug the hard drive which fails to be recognized by Windows BIOS, and remove the ATA or SATA cable and its power cable.
If the ATA or SATA cable and the power cable are broken, change a new one. If the cables are covered by dust, clear the dust.
Step 4. Remove the hard drive, clear all covered dust, insert the hard drive back to the computer case.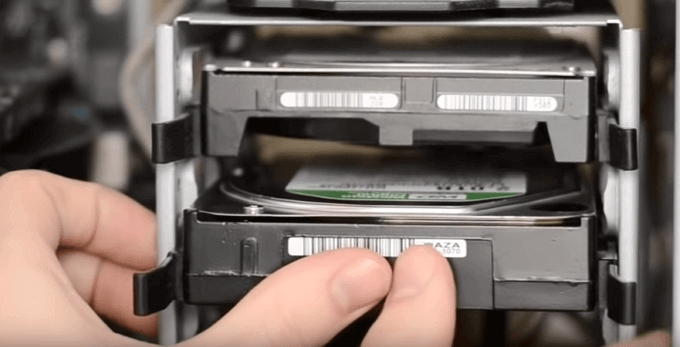 Step 5. Reconnect the hard drive to your computer motherboard with the SATA or ATA cable, and plug in the power cable on the drive.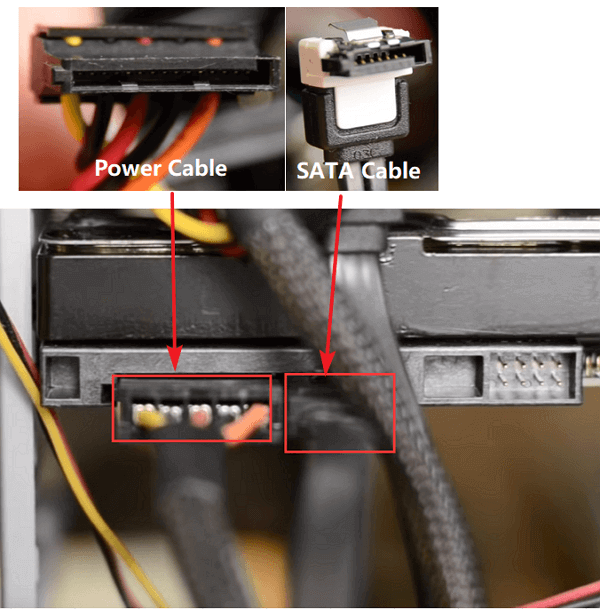 Remember to connect the hard drive back to your computer correctly and fasten the cables.
Step 6. After this, restart your PC and check if the hard drive shows up in your PC.
If your hard drive shows up and you can access your data on the drive, congratulations. If the hard drive fails to shows up, try the next quick fix to regain access to your disk data.
#2. Connect No Detected Hard Drive to Another Desktop/Laptop as a Second HDD
Applies to: Help you check whether the hard drive itself is damanged.
Another efficient way to access your hard drive is to connect it to another PC or laptop as a second HDD. If you have a second computer at your office or home, try the following tips and access your hard disk data on the new PC:
Step 1. Shutdown the old computer and remove the computer case with its ATA/SATA cable and power cable.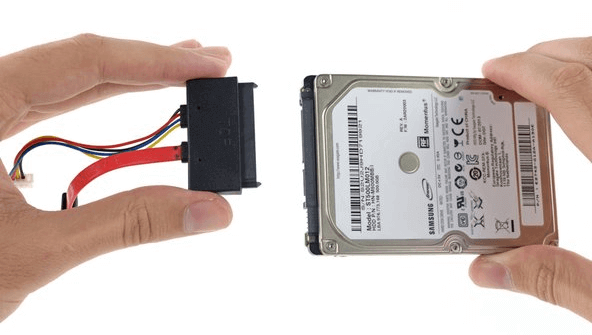 Step 2. Open the new computer or laptop case.
Step 3. Locate the hard drive slot and insert the hard drive into the slot.
Step 4. Reconnect the hard drive as the second HDD on the computer via the ATA/SATA cable and power cable.

Step 5. Restart the laptop or computer to check if the hard drive shows up.
If the hard drive shows up, congratulations and you can re-access the data on your disk again.
But if the hard drive is still not recognized, it may have other issues. Or, if the hard drive shows up but you cannot access the data, don't worry. You can move on and try the advanced fixes to get this issue resolved.
Three Advanced Fixes for Hard Drive Not Detected/Unrecognized Error in BIOS
If the above quick fixes don't help, don't worry. Try the three troubleshooting tips here: [1] Enable BIOS connection by yourself [2] update driver [3] repair hard disk corruption.
Fix 1. Enable Hard Drive in BIOS
Applies to: Fix HDD not detected in BIOS error directly by enabling hard disk in BIOS.
Step 1. Shut down the PC and restart the PC and press F2/F8/F11 or Delete to enter BIOS.
Step 2. Enter Setup and check the system documentation to see whether the undetected hard drive is turned Off in System Setup or not.
Step 3. If it's Off, turn it ON in System Setup.
Step 4. Reboot the PC to check out and find your hard drive now.
If the hard drive fails to show up on PC, update its drivers in Fix 2.
Fix 2. Update Hard Drive Driver to Make Your Disk Detectable
Applies to: Fix hard drive not recognized due to outdated hard drive driver.
To update hard drive drivers for your computer storage controller, you have three options here:
Option 1. Update hard driver by contacting the manufacturer for help.
Option 2. Download and update hard drive driver from manufacturer's website.
Option 3. Manually update hard drive drivers in the Windows system:
Step 1. Click the Start button, type Device Manager and hit Enter.
Step 2. Select Device Manager, expand categories to find the name of your hard drive and right-click it.
Step 3. Select "Update Driver" and Select "Search automatically for updated driver softwar"e.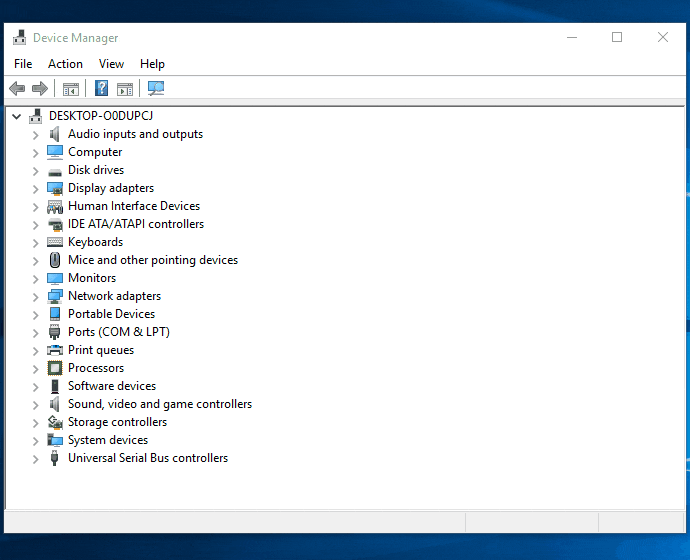 If Windows doesn't find a new driver for your drive, try to find the latest one on the device manufacturer's website.
If the above steps don't work, try reinstalling the drivers: Open Device Manager > Right-click on your hard drive and select Uninstall.
Then restart your PC and Windows will automatically reinstall the drivers on the hard drive for you.
Fix 3. Run CHKDSK CMD to Check and Fix Internal Disk Errors that Make Hard Drive Not Recognized
Applies to: Fix internal errors that cause HDD/SSD not detected or not recognized by PC, not showing up on laptop.
After the hard drive is detected in BIOS, you can try to open it on your PC. If you still cannot open it on the PC, here you can run CMD to repair the internal hard drive error that causes the hard drive undetectable or unreadable by your PC:
Step 1. Press Win + R to open a Run dialog and type: cmd to open Command Prompt by hitting Enter.
Step 2. Type chkdsk /f x: (x should be the drive letter of your undetectable hard drive.) and hit Enter to run the disk checkup process.
Step 3. Type exit to finish the process when the disk checkup process is finished.
Drop your comment