Windows is an operating system that is used by a large percentage of computer users,for this operating system to work effectively, there is need for it to be activated after installation
Activation is a process that is built into Windows. It helps to verify that your copy of Windows is genuine. When your Windows is genuine, you are eligible to receive all product updates and product support from Microsoft. If it is not genuine, you still get security updates but not much else. Also, you are regularly asked to activate your copy of Windows, by providing a genuine product key.
The activation checks are regularly made by Windows. The first time it takes place is when you install Windows or when you first use a newly purchased PC or device with Windows. Another time an activation check is made is when you attempt to download optional updates from Microsoft. Significant hardware changes inside your computer can also trigger automatic activation checks.
Pirated versions of Windows may initially be activated and start working without issues but, after a few weeks of use, it is likely that Microsoft's activation checks identify this problem and you are going to be asked to activate your copy of Windows by providing a valid product key. Therefore, it is safe to assume that, if your Windows is activated, most probably it is also genuine.
However, even if your Windows is activated, you cannot be 100% sure that it is also genuine unless you get it from a trusted source.
The following procedures will help you to know if your windows is activated or not.
How to check if Windows is activated by simply opening the Settings app in Windows 10
An alternative way to quickly check whether your Windows 10 is activated or not is to simply open the Settings app. Open it and, if you see a text that says "Windows isn't activated. Activate Windows now." displayed on the bottom, then it is clear that your Windows 10 is not activated.
If you do not see the text, then your Windows is most likely activated.
Using Settings
While it may not be the quickest option, it requires only a handful of clicks to display the operating system's activation status.
Tap on the Windows-key or click on the Start butt, and select Settings from the menu that opens up. If you don't see settings, type Settings and hit enter. Alternatively use Windows-i to open Settings directly.
Navigate to Update & Security.
Select Activation on the left.
There you find listed the activation status of the operating system as well as the edition.
"Windows is activated" indicates that everything went well
Using the System Control Panel applet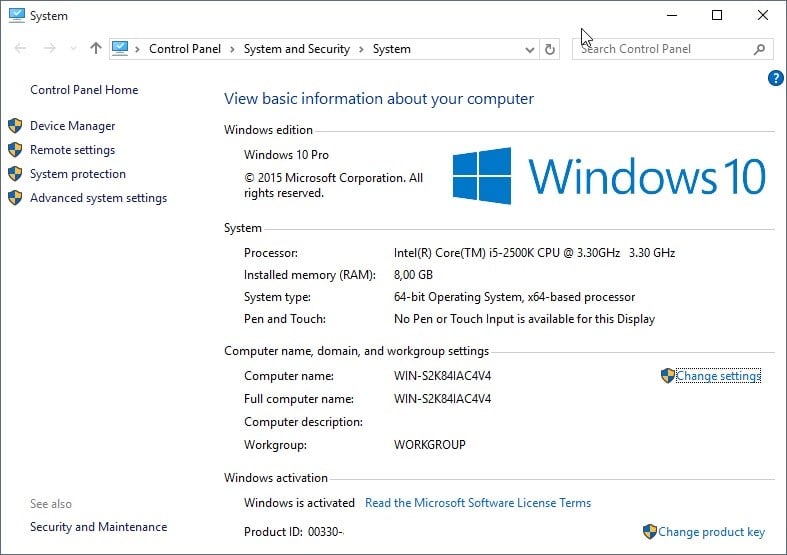 This one is a lot quicker and delivers the same result.
Use the keyboard shortcut Windows-Pause to open the System Control Panel applet. It lists the activation status of the operating system under "Windows activation" at the bottom of the screen.
There you find an option to change the product key should it become necessary.
If you see "Windows is activated", you know that the activation was successful.
3. Using the Command Prompt
If you prefer to use the Windows command prompt, you may use it to display the activation status as well.
Tap on the Windows-key, type cmd.exe and hit enter.
Type slmgr /xpr and hit enter.
A small window appears on the screen that highlights the activation status of the operating system.
If the prompt states "the machine is permanently activated", it activated successfully.
Please drop your comment below.