What is Microsoft Access?
Microsoft Access is a Database Management System offered by Microsoft. It uses the Microsoft Jet Database Engine and comes as a part of the Microsoft Office suite of application.
Microsoft Access offers the functionality of a database and the programming capabilities to create easy to navigate screens (forms). It helps you analyze large amounts of information, and manage data
Microsoft Access Features;
Ideal for individual users and smaller teams
Easier than client-server database to understand and use
Import and export to other Microsoft Office and other applications
Ready templates for regular users to create and publish data
Allows building and publishing Web databases effortlessly
A user friendly feature 'Tell Me' for assistance
Allows developers to create custom solutions using VBA code
Hide/Show option for Ribbon
Allows users to Report View Eliminates Extra Reports
Allows output Reports in PDF format
Ideal for individual users and smaller teams
Microsoft Access is a simple desktop application that does not require any specific hardware or license to function. Hence, it is ideal for individual users and smaller teams who do not require larger and complicated data bases for extra price.
Microsoft Access offers numerous advantages over database solutions over SQL Server and Oracle where the need for database is not very high. Many smaller teams can now avoid purchase of massive resource for their basic and simple needs with the help of Microsoft Access.
Further, they do not need anyone to administer or monitor Access which may be required by regular client-server databases. 
---
Moreover, it comes with an option of allowing users to turn their database into application, which was introduced after Microsoft Access 2007.
Is easier than client-server database to understand and use
Personal computer applications like Microsoft Access have taken over many applications which were earlier relegated to client-server database in the past. Users of Access need not undergo any special training to acquire the skills necessary to use the application.
Many users have self-tutored themselves to use Microsoft Access for their individual needs. Creating and administering database is quite simple and easy with the help of readily available, well organized set of templates which will be discussed further in this article.
Users of Microsoft Excel will find Access easier to master since it is similar to Excel though the fundamental concepts of databases are much different from Excel.
Learning and managing this powerful application using the most effective techniques and tools available is possible even for new users who have little or no knowledge of managing databases.
Microsoft Access stores different data sets known as Tables that are potentially related which when combined together increases data flexibility.
By relating and joining tables together, Access, a Relational Database Management System (RDBMS) on the whole provides more flexible reporting and functionality within this application to the users which makes their task simple and easy.
Import and export to other Microsoft Office and other applications
One of the most useful features of Microsoft Access is its ability to interface with data from many other programs.
It is also easier to combine data that was created in other programs, transfer data between two other programs, or to accumulate and store data over the long term, occasionally exporting data to other programs such as Excel for analysis.
With Microsoft Access there are number of ways to copy an object such as a table or form from one database to another effortlessly. Besides copying and pasting an object, Microsoft Access also allows exporting an object which comes with more options.
With Access it is convenient to export the table definition and the data in the table, or export just the table definition which a blank copy of the table as required. You can also save the details of the operation as an export specification for future use.

The Import and Export Link group displays icons for all the data formats that Microsoft Access can Import or Export Data to. On clicking more, users will can see more formats that Microsoft Access can work with.
For further convenience of the users, the import/export wizard helps users with the task and saving the details of that operation as a specification.
Ready templates for regular users to create and publish data
Microsoft Access helps users in creating and managing databases even if they have minimal experience in the field. This is made possible with the help of several Microsoft Access templates which has everything ready for use.
On opening a specific template file, user finds a new database with tables, forms, macros, reports, and other necessary fields which is already created, saving time and effort.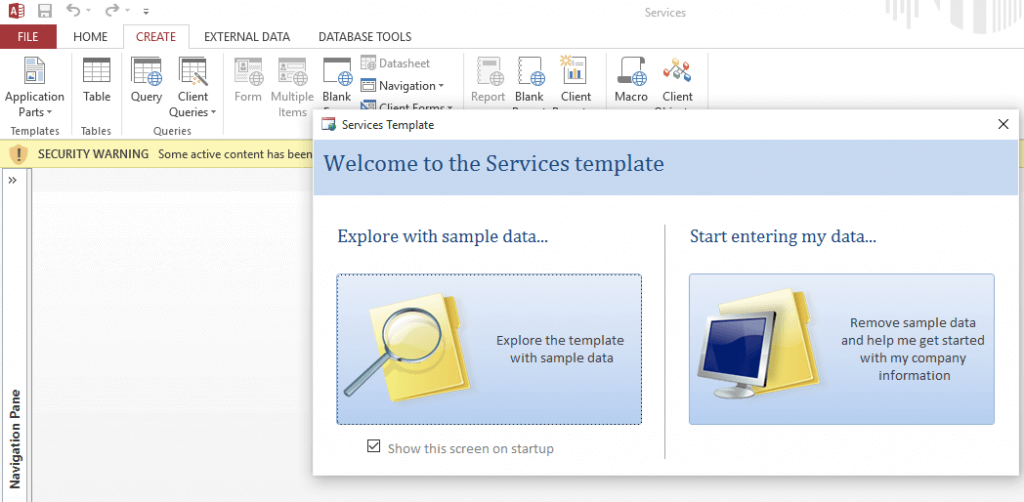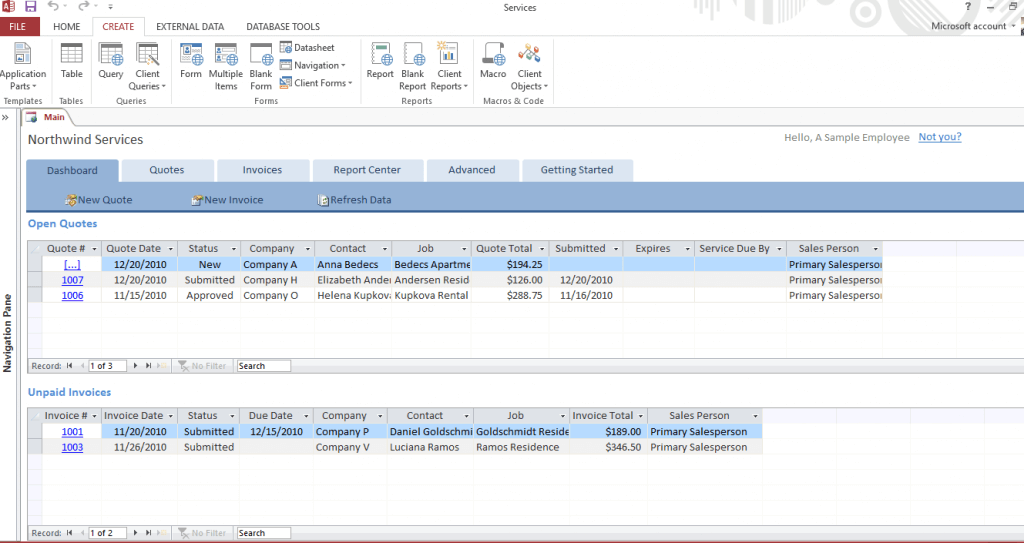 The templates gallery conveniently comprises both desktop and web-based templates for the user to choose from. For creating an Access database for personal use, the best option would be to go with a desktop template.
For creating databases for publishing on a SharePoint server, it is recommended that the user choose the Web-based templates.
For example the Desktop Customer Service Template from Microsoft Access 2013 helps users to create a customer service database to manage multiple issues tracking assignments, priority, status, and resolution with ease.
The Microsoft Access Templates for Employee and Vendor Project Marketing helps users create extensive marketing project database to track time sensitive deliverable's, employee roles, and their priced vendors.
Allows building and publishing Web databases effortlessly
Users of Microsoft Access can either design their own database or create a database using a readily available template as per their requirement.
Those who are tech savvy and familiar with Web Databases would ideally design their own database by creating a blank database on which they would create the tables that their database would need on Access.
For those who need help or are not aware of what tables their project would require can make use of the templates available for them. Microsoft Access templates has a huge compilation for some commonly used databases that would be required by users.
Even new users can create a database using a template by the following steps
Open Access and open the backstage view by clicking on FILE.
Find the required template among the templates you would see there.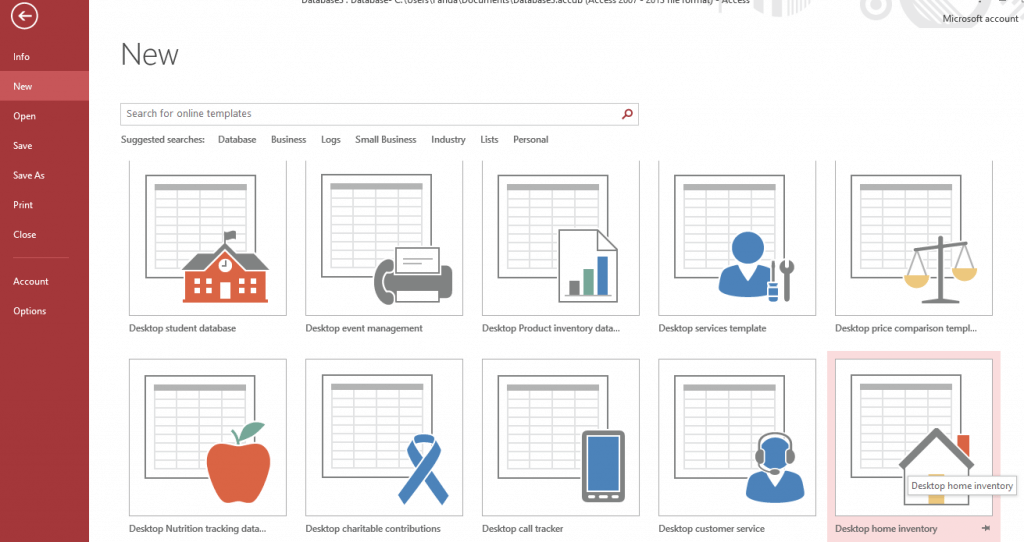 If the required template is not found, users can search Microsoft Office online to find additional templates.
Tap or click the template which is suitable for the purpose and ensure that the selected template is specific for either for a desktop database or Web Publishing.
Enter a file name and select a location to store the created database.
Tap or click the Create button to create the database.
It is as easy as that.
A user friendly feature 'Tell Me'
The new user friendly feature 'Tell Me' being introduced in Microsoft Access 2016 works like an assistant helping users to complete task on hand quickly.
The feature is available as a text box on the ribbon in Microsoft Access 2016 that says Tell me what you want to do with a bulb beside it.
Users can enter words and phrases in the text field related to what they want to do next and quickly get to features they want to use or actions they want to perform. It also provides help related to what is being searched for.
For example, when the word 'filter' is entered, all the filter related option in the application will crop up. Users do not have to hunt any feature down through a maze of menus with Tell me bar available.
Moreover, unlike help assistants of past, this feature doesn't tell the user how to perform a specific function; it simply offers a simple step to actually do it.
Allows developers to create custom solutions using VBA code
Visual Basic for applications(VBA) Is a programming languagethat can be used with Microsoft Access. Developers using Access can create custom solutions for their database using VBA code which is an effective programming language that consists of a code/command for specific programs.
The instructions will cause actions to take place automatically when the program is executed. This powerful feature allows developers to extend basic custom end-user solutions to a professional solution by using advanced automation, data validation, error trapping, and multi-user support in their databases.
Hide/Show option for Ribbon
The Microsoft Access window consists of a variety of components helping users to work more efficiently. The important components are the Navigation Pane, Access work area, ribbon, shortcut menus, and Quick Access toolbar Some of these components are common to other Office apps whereas others are unique to Microsoft Access.
The ribbon contains five tabs used to accomplish various tasks on the computer related to organizing and managing the contents of the open window in Microsoft Access.
It is located near the top of the window below the title bar and provides easy, central access to the tasks performed while creating a database.
The ribbon available in Microsoft Access consists of tabs, groups, and commands. Each tab contains a collection of groups, and each group contains related functions. It can be further customized to suit the user requirement.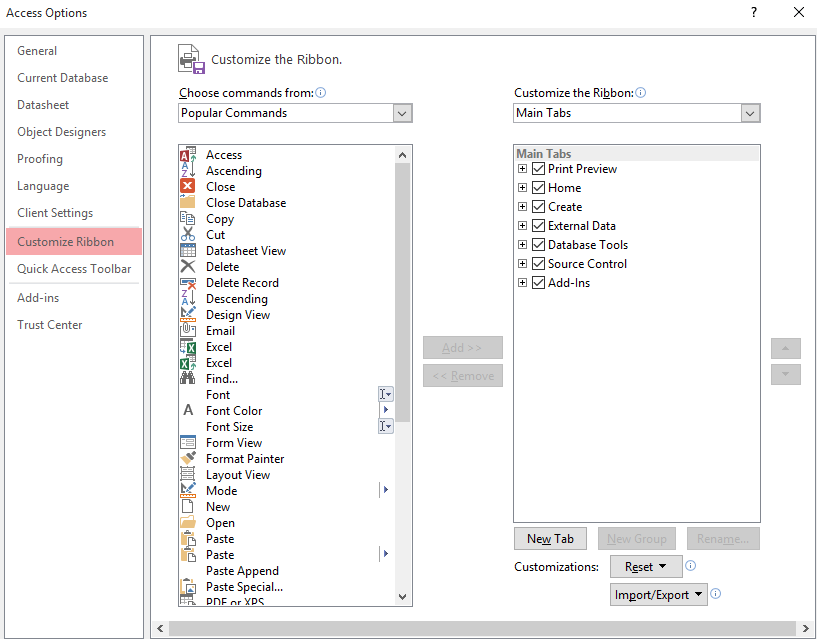 At times the ribbon which initially displays several main tabs can be a bit irritating. Now users have the option to hide the ribbon when not required, to have a clutter free screen.
The minimize option for the ribbon can be set for the Ribbon in Access by double clicking for future sessions. Now users do not have to worry about the ribbon infringing on their work area.
Report View Eliminates Extra Reports
With Microsoft Access users can choose four different ways to view reports:
Report view
Print Preview
Layout view
Design view.
Report view shows the report on the screen as users would prefer to see it. A very useful feature of Microsoft Access, the new Report View allows users perform ad hoc filters on a report similar to the way they can filter forms.
Users have a choice to pick which fields they desire to have on their reports by choosing their preference from more than one table or query.
By filtering specific column value or words that begin with or contain similar letter or data range the reports can be modified to meet the user requirements.
The resulting reports shows exactly what the viewer wants to see with summaries automatically recalculated. Moreover, this requires no special programming skills on behalf of the user.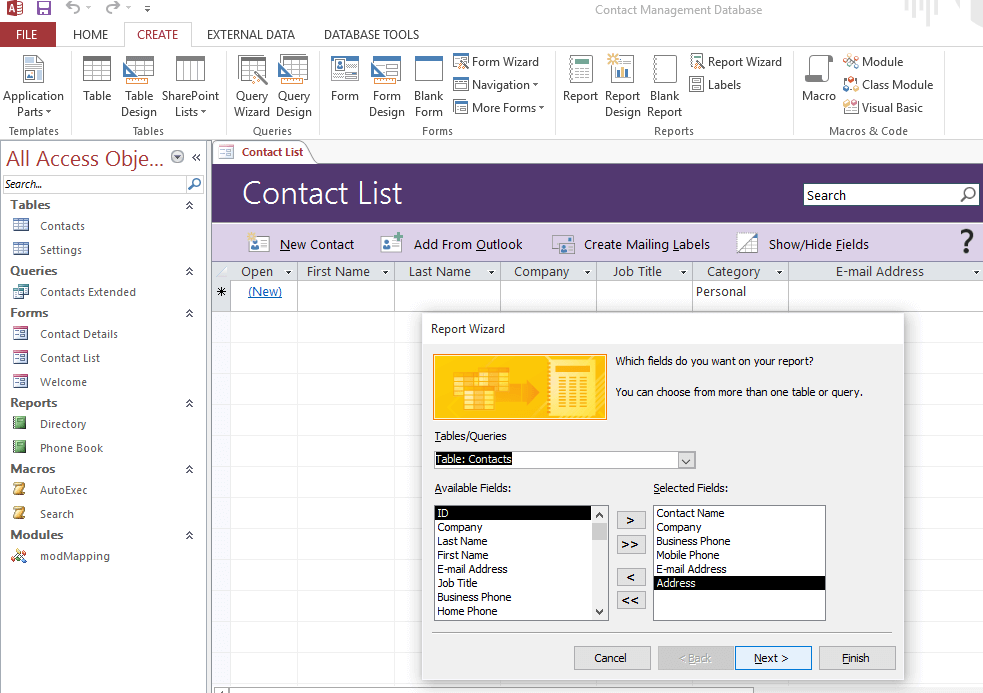 Further, developers can add grouping levels, set the order for their records and sort record either in ascending or descending order. Finally the user will see the report as exactly they want it with all the extra unwanted fields eliminated.
With little effort the readability of the reports will be enhanced and they become more viewer friendly.
With the help of hide Duplicates property to Yes, viewers can rid of unwanted duplicate reports when needed.
Output Reports in PDF format
Today more and more users are sharing database through electronic image formats or popularly known as fixed formats like PDF by Adobe Systems and XPS by Microsoft.
Access allows users to create reports in electronic image files through the EXTERNAL DATA tab on the ribbon. These reports can be viewed even by users who do not have Access installed on their system since the PDF file can be opened on
Adobe reader.
With the reports and database shared in PDF format, the applications of Access has been enhanced significantly. Users love this output type which is welcome as a useful addition which makes it convenient and simple to distribute reports via email which saves paper and contributes to green computing.
With all the above features and many more, no wonder that Microsoft Access is today the world's leading database system, with millions of users and hundreds of thousands of developers benefiting from it.
The Benefits and Advantages of Microsoft Access
Access is the database package within the Microsoft Office suite. We are often asked why we recommend MS Access over other databases, so here is a list of what we believe are the benefits and advantages of using Microsoft Access.
1. Quick and easy to create database systems.
Microsoft Access is an excellent tool for creating bespoke systems that have a database at their heart. It includes various wizards to speed up the process of creating a database application, and a vast array of readily available functionality. For an expert programmer specialising in MS Access, we find that development time is approximately half that needed for creating the same system using a different platform. This is a huge advantage. It translates directly into a cost-saving for you and it means that turn-around times are usually a matter of a few weeks from inception through to delivery.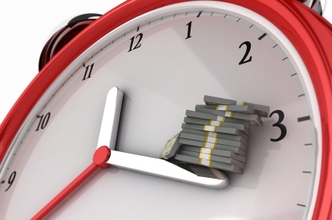 ---
2. Microsoft Access produces very user-friendly applications through its comprehensive programming language (VBA).
You may find that you can produce a very basic database in Access yourself. But with a bit of magic from an expert VBA programmer you can turn a database into a fully-fledged user-friendly application. There are hundreds of examples of how we have used programming code in our clients' systems to provide a user-friendly interface, and to automate processes – from buttons to open screens or to jump between them, to buttons to calculate and submit VAT returns to HMRC; from automatically populating one box dependent on the user's choice in another, to automatically sending out reminder emails when a milestone is passed. The end result is always an easy-to-use system that fits around the way that your business works.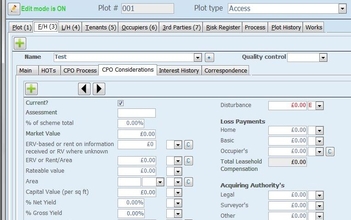 ---
3. MS Access produces flexible and adaptable database systems.
Access really scores here. Nothing in your system need ever be written in stone! Whilst it isn't as quick to make changes as it is to create systems in the first place, it is still much quicker to amend things in Access than it is in other packages. And if you need to add new bits into your system they can often be integrated as quickly as creating something new. In practice this means that Access is perfect for the real-life business world. Things change and your system can change with them – without costing you the earth, and without long time delays.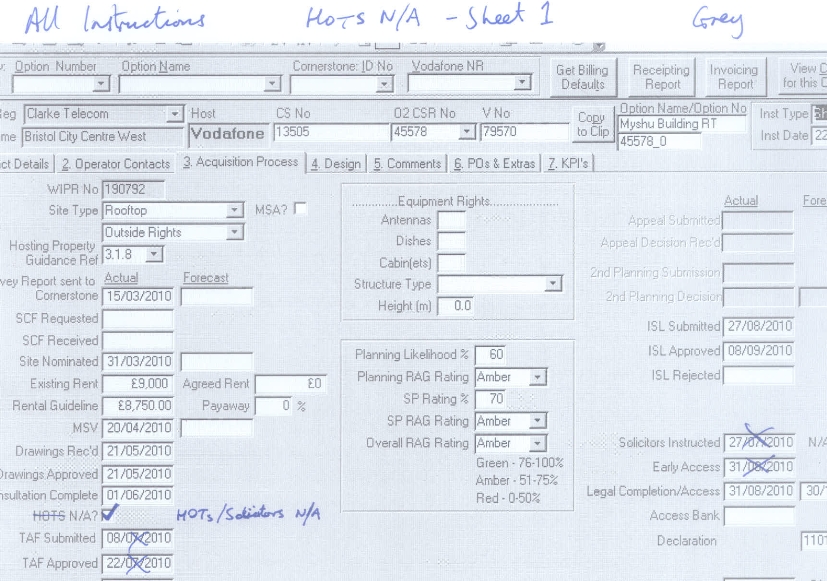 ---
4. Well-known so you can get help and support easily.
Access and its VBA programming language are known by many developers, programmers and software companies. This means that if you create a system using Microsoft Access, you will not be stuck with the person who created it for you. So, if they move on or retire, you will not be left high and dry. One important point to note here though – you must make sure that you have the source files. These will be .mdb or .accdb files; .mde or .accde files are not source files and cannot be examined or amended by another programmer. A reputable developer will always make sure that you have the source files and that you know it! Another point to note here is that, because Microsoft Office and VBA are so widely-known, programmers' rates are lower than for other programming languages, again contributing to a lower cost to you.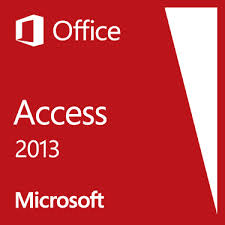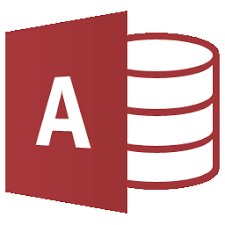 ---
5. Microsoft Access has been around for a long time, so expertise is not going to disappear.
We have been creating systems in Access since 1994, and Access was already around before then. It has always been included as part of Microsoft Office, and this is not going to disappear any time soon! Businesses who chose Access back in 1994 still have a system that is not obsolete, and there aren't many other businesses who can say the same thing. If you want a system that is going to have longevity, then Access is a great choice.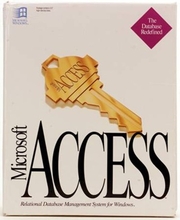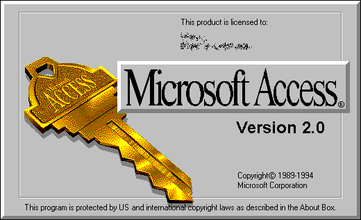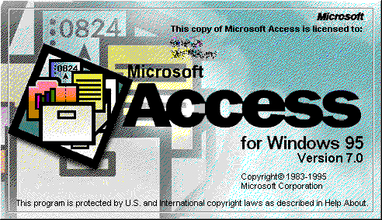 ---
6. Part of the Microsoft Office suite so is fully integrated with the other MS Office packages, like Word, Excel & Outlook.
Simple examples here are mail merging in Word, sourcing the names and addresses (and anything else you like) from your Access database, and then sending out the mailshot via email using Outlook. And this is the level of integration available to a normal user, without any programming or anything! Similarly with exporting data and reports to Excel for ad hoc analysis, or turning an Access report into a pdf and attaching it to an email using the standard menus within Access. Via programming we can export data to specific file layouts or templates to satisfy the requirements of other systems; trigger emails from actions taken in a database; link and import data from external files automatically into an Access database; and so on. You won't find any other database package with this sort of functionality so readily available.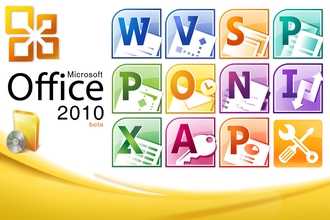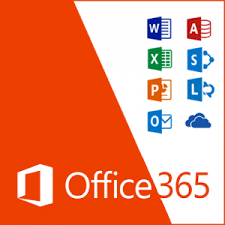 ---
7. The capabilities of Access are constantly improving – now with good web integration.
With each new version of Microsoft Office, Access evolves bringing new capabilities. For example, with improvements made to SharePoint Lists and their integration with Access, you can now link your fully-functioning desktop Access application to your data in the Cloud. This can be immensely useful to some businesses, and you can read more about some examples here.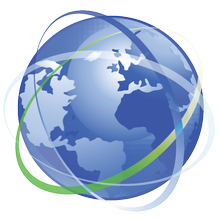 ---
8. Often included in your existing Microsoft Office licence – for business users at least.
If you already have a business version of Microsoft Office then you may well already have Access. This means that you can run and edit an Access application already using the existing software on your computer. Furthermore, users do not even need a licence for Access to run a system created in it. There is a free run-time version available from Microsoft for this situation. Be aware though, that the system needs to include, for run-time users, a few extra features that a developer might not otherwise include. And those users will not have the in-built functionality that comes free with a full Access licence.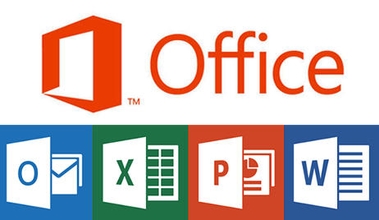 ---
9. Scalable integration for large systems and expansion.
One criticism sometimes levelled at Access is that it is "small-fry" and not suitable for the "big boys". This is based around the undeniable fact that it has a basic database engine. Where we find that we need to create a system where there will be more than about 10 users using it at any one time, or where there are very large numbers of records (several hundred thousand, plus), we would stick with Access for the user interface files, but would migrate the data to SQL Server. There is a free version of SQL Server available from Microsoft, and Access includes a wizard to move the data across. In practice, we have not needed to go down this route often, but when we have done so, it has worked well. And it has left the client with all the above benefits of using Access, whilst utilising the powerful database engine of SQL Server.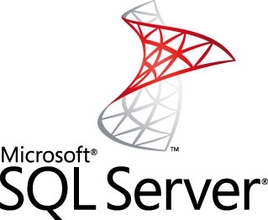 What are short cut keys in computer
Keyboard shortcut
In computing, a keyboard shortcut is a series of one or several keys that invoke a software program to perform a preprogrammed action. This action may be part of the standard functionality of the operating system or application program, or it may have been written by the user in a scripting language
IMPORTANCE OF MICROSOFT ACCESS
Microsoft Access, is an information management tool, or relational database, that helps you store information for reference, reporting and analysis. Access can also overcome the limitations found when trying to manage large amounts of information in Excel or other spreadsheet applications.
A spreadsheet program like Microsoft Excel cant do the work of ms accessin terms of maintaining and calculating large sets of information. Excel is easy to understand and easy to use. You can sort, filter and format the data quickly and easily. But spreadsheets are not ideal for handling hundreds of records when creating an important file for a client, a contact or an executive. It's very easy to make errors in a spreadsheet, which then makes analysis, summing and reporting very challenging.This where ms access comes in to perform more efficiently.
MS ACCESS SHORT CUT KEYS
Function
Keys
Select the active tab of the ribbon and activate KeyTips
Alt or F10
(to move to a different tab, use KeyTips or the arrow keys)
Open the Home tab
Alt+H
Open the Tell me box on the ribbon
Alt+Q, and then enter the search term
Display the shortcut menu for the selected item
Shift+F10
Move the focus to a different pane of the window
F6
Open an existing database
Ctrl+O or Ctrl+F12
Show or hide the Navigation Pane
F11
Show or hide a property sheet
F4
Switch between Edit mode (with insertion point displayed) and Navigation mode in the Datasheet or Design view
F2
Switch to Form view from the form Design view
F5
Move to the next or previous field in the Datasheet view
The Tab key or Shift+Tab
Go to a specific record in the Datasheet view
Alt+F5
(then, in the record number box, type the record number and press Enter)
Open the Print dialog box from Print (for datasheets, forms, and reports)
Ctrl+P
Open the Page Setup dialog box (for forms and reports)
S
Zoom in or out on a part of the page
Z
Open the Find tab in the Find and Replace dialog box in the Datasheet view or Form view
Ctrl+F
Open the Replace tab in the Find and Replace dialog box in the Datasheet view or Form view
Ctrl+H
Add a new record in Datasheet view or Form view
Ctrl+Plus Sign (+)
Open the Help window
F1
Exit Access
Alt+F4
Function
Keys
Select the active tab of the ribbon and activate KeyTips
Alt or F10
(to move to a different tab, use KeyTips or the arrow keys)
Move the focus to commands on the ribbon
The Tab key or Shift+Tab
Move down, up, left, or right, respectively, among the items on the ribbon
The Down, Up, Left, or Right arrow key
Expand or collapse the ribbon
Ctrl+F1
Display the shortcut menu for the selected item
Shift+F10
Move the focus to a different pane of the window
F6
Move to the next or previous command on the ribbon
The Tab key or Shift+Tab
Activate the selected command or control on the ribbon
Spacebar or Enter
Open the selected menu or gallery on the ribbon
Spacebar or Enter
Open the selected list on the ribbon, such as the Font list
The Down arrow key
Move between items in an open menu or gallery
The Tab key
Finish modifying a value in a control on the ribbon, and move the focus back to the document
Enter
[Tab] sets focus to the next field.
[Ctrl]+[Enter] inserts a new line in multi-line controls.
[Ctrl]+[C] copies the selected text onto the clipboard.
[Ctrl]+[X] cuts the selected text, and put it on the clipboard.
[Ctrl]+[V] pastes the clipboard contents.
[Ctrl]+[F] opens the Find dialog.
[Ctrl]+[Z] undoes the last action.
[Ctrl]+[A] selects all text in the current field.
[Shift]+[F2] opens zoom box to edit the current field in its own, larger, dialog box.
[Spacebar] toggles the value of a check box or option button.
[F7] checks spelling.
[Esc] undoes changes to the current field or the current record (press [Esc] twice to undo both).
Please drop your comment.